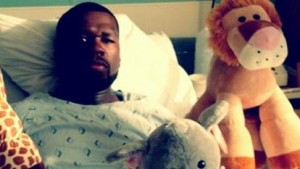 Talks of hospitalization started off as a rumor, but now they have been confirmed by 50 Cent himself.
"I'm in the hospital but my gangsta grillz LOST TAPE is done so it will be out on time," the G-Unit general tweeted on Wednesday evening, accompanied by a TwitPic of him laying solemnly on a hospital bed and wearing a hospital gown.
"I don't want to go into surgery @FloydMayweather call my phone why your phone off," 50 added moments later in a tweet toward his best friend, boxer Floyd Mayweather.
Although 50 didn't disclose his ailment, DJ Drama confirmed to XXLMag.com that 'Fif was suffering from a "stomach virus."
"First they wanted to keep it quiet, but he's not a quiet guy," said Drama about 50, who is collaborating with Dram to put out his The Lost Tape Gangsta Grillz mixtape on May 22. "He should be cool. It's nothing that serious. We still gonna do our promo run stuff [Thursday]."
50 even joked that working hard with Drama caused his ailment, as he tweeted:
"Do not do a @djdrama gangsta grillz this is all I get. Ain't this a b*tch. I give 15 tracks you give me this."
That tweet was accompanied with a sarcastic pic of 50 once again laying in a hospital bed, but this time carrying three stuffed animals: a giraffe, lion and elephant.
The original release date of 50's The Lost Tape was May 15, but he had to push it back one week to Tuesday, May 22, where it still stands now.